Home Locations Ruskin Branch Library
Nearby Bus Stops
U.S. Hwy. 41 @ Dickman Dr. - Route

31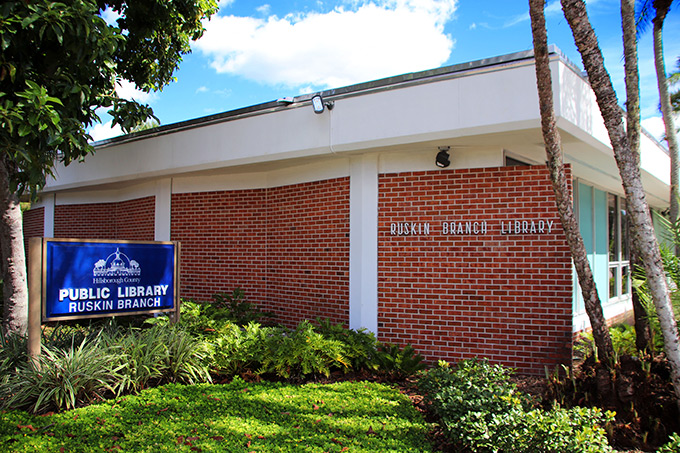 Overview
The Ruskin Branch Library is a friendly, community-oriented library located just east of Highway 41. The building is nestled in a unique location where environmental preservation is important and spectacular views of birds, fish, stingrays and other wildlife are common place. The library routinely offers a variety of programs such as adult book discussions, adult computer classes and summer programming for school-age children.
History
Public library service in the Ruskin community traces its origins to 1916 when the library was housed in private homes. The library was largely culled from collections of private citizens and was maintained and operated by the Ruskin Woman's Club. The library materials were moved to the Chamber of Commerce Building in 1929 and moved again in 1940 to the Ruskin Woman's Club building. A Library Association was formed in 1963 to raise funds for the construction of a permanent library building that would be built at 26 Dickman Drive and dedicated in June 1966.
Friends of the Library
The Friends of the Ruskin Library sponsor a used bookstore which is open to the public during regular branch hours. Funds raised by the Friends are used to support library programs and special events.