Home Locations Egypt Lake Partnership Library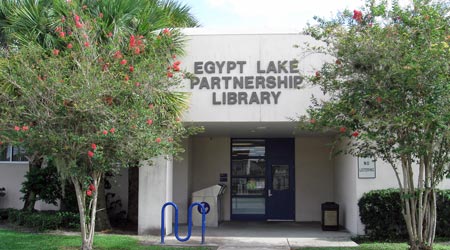 Services
The Egypt Lake Partnership Library has technology common to all locations.
Overview
The Egypt Lake Partnership Library is a collaboration between the Tampa- Hillsborough County Public Library System and the School District of Hillsborough County. In addition to the materials purchased by the school, there are books, DVDs, audio books, music CDs, and magazines available for checkout. This branch has a large collection of Spanish language and bilingual English/Spanish materials and computer classes are available in both Spanish and English. Although the public library is not available during school hours, the library is open to the public after school, evenings, and on Saturdays.
History
The Egypt Lake Partnership Library began in the summer of 1997. With help from a Linking Libraries and Communities grant, public library staff worked at the school media center during the summer months and offered programs to encourage the love of reading in children. This same programming was repeated in the summers of 1998 and 1999.
In the fall of 1999, the public library began to staff the school media center after school hours and year round, expanding the traditional summer programming. In September 2000, the school media center and the public library moved from a portable classroom to a new 5000 square foot building on the grounds of Egypt Lake Elementary School.
Friends of the Library
Programming for this branch is supported by the Friends of the Jimmie B. Keel Regional Library.
Upcoming Events
More Events